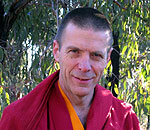 " No Time to Loose "....continued
CTCT are very honored to welcome Ven Tonys' return once again to Hobart as our  ~ MARCH VISITING TEACHER ~ we hope you will find these presentations relevant and useful - your participation will assist you immensely in daily life to live and interact with others with much more kindness and care
MARCH 22 & 23 with  VEN TONY BEAUMONT
DEATH and DYING : Saturday 22   9 am - 4 pm
Reflection on death is a powerful method to give priority to that which brings the greatest fulfillment and weaken the attraction to that which is most harmful. Over these sessions there will be discussion on the Buddhist approach to life and death, the process of dying, how to assist those who are dying and offer support to those who are grieving.
COMPASSION - THE WISH FULFILLING JEWEL: Sunday 23 10 am - 3 pm
From the Buddhist perspective compassion isn't simply an emotional state but rather an intelligent, practical, realistic response to our relationship with others. Discussed will be the meaning, benefits and logic of compassion, how to develop it and how to integrate it into the life
About the teacher : Ven Tony Beaumont has been a Buddhist monk and Buddhist practitioner  for over 30 years.A well respected teacher of Buddhist Philosophy and practice  in many parts of the world. A warm and compassionate presenter with a relaxing humor,able to translate our everyday experiences into the path with common sense and wisdom.
Presentations suitable for all levels of interest.Everyone welcomed
Discourse | Discussion | Guided Meditation
VENUE : Multifaith Centre TUU Building UTAS Churchill Ave Sandy Bay
Daily Course contribution Full day $35 half day $20

BYO packed lunch - refreshments provided
To assist our planning and preparations of refreshments and course materials Bookings most appreciated - please email your intent to attend to This e-mail address is being protected from spambots. You need JavaScript enabled to view it
Thank you for your support in advance