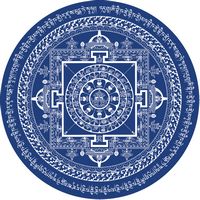 MEDICINE BUDDHA Mandala & Mantra Garland Art Retreat
October 27-30
Public lectures, Art tuition, meditation and mantra recitation.
A non-residential Art Retreat weekend at KICKSTART ART Centre.
Registration essential This email address is being protected from spambots. You need JavaScript enabled to view it.
Please note update to program schedule dates - 27-30 October
About the teacher :http://www.andyweberstudios.com/andy-weber

We are happy to welcome Andy Webers' return to CTCT offering a very special opportunity
Non-residential ART RETREAT Weekend October 27-30
Friday evening - Saturday and Sunday full day
MEDICINE BUDDHA MANDALA & MANTRA GARLAND ART COURSE
Public lectures, Art tuition, meditation and mantra recitation
This course will focus on the Medicine Buddha and his mandala. Students will learn about the intricate structure of his mandala. Depending on talent and previous experience students will receive hands-on-tuition to draw the mandala or learn to draw the Seed Syllable and Mantra garland of the Medicine Buddha. The visualization of the seed Syllable and Mantra Garland is essential for the deep healing practice and experience of the Medicine Buddha, therefore the course will include meditation and long mantra recitations.
Students will learn drawing skills and gain insight into painting techniques of Tibetan tangkha painting. Artistic talent is not essential, genuine perseverance is preferred.
A course particularly beneficial for anyone in the caring / healing profession
The Power of Medicine Buddha - excellent recommended reading
REGISTRATION ESSENTIAL E: This email address is being protected from spambots. You need JavaScript enabled to view it. – All inquiries welcomed
Please note: To obtain maximum benefit for participants of full course registration we require / recommend attendance especially for Friday evening Introduction and ALL sessions Saturday and Sunday - Monday Public Lecture - also recommended - optional.
SPACES LIMITED
Venue : Kickstart Arts Centre St Johns Ave New Town Hobart Tasmania
Full course cost: $220 (also Includes complimentary attendance to Public Lecture Monday 30 )
Program Schedule
Full Art Course :
FRIDAY October 27 - Introductory Lecture for weekend course participants 7 pm - 9 pm
SAT & SUN 28-29 - Art Course 9.30 am -5.30 pm
Morning and afternoon Refreshments included - BYO lunch
Required course materials for participants will be advised upon registration
Registration requires course payment in full to secure your place - direct deposit bank details will be included in your registration confirmation email
Cancellation Policy :
If cancellation is notified prior to October 16 - full refund less $25 admin fee will be returned .
Cancellation notified after October 16 - no refund available
*Course fees are reflective of the Centre costs to host this program and Andys 6 day stay in Hobart. These include shared International and domestic airfaires, travel insurance , Australian visa, accomodation and meals , venue hire, course materials and teaching fees .
MONDAY 30 - PUBLIC LECTURE and Medicine Buddha Practice 7 pm - 9 pm Everyone Welcomed - Supper included
Andy Weber will offer an in depth presentation via interactive discourse and power point presentation regarding the topic of the Medicine Buddha - historical , origination details , qualities , relevance within Buddhist practice and also introduce the audience to the meditation practice that brings much benefit to positive worldly pursuits and healing - an insight into traditional tanghka painting - the power of holy objects to move our hearts and minds
Cost: $20 Suggested donation - Everyone welcomed