SAVE THE DATES FEBRUARY 17 - 19 AWAKENING THE WISE HEART Retreat
Compassion Non Residential Retreat - REGISTER NOW to confirm your place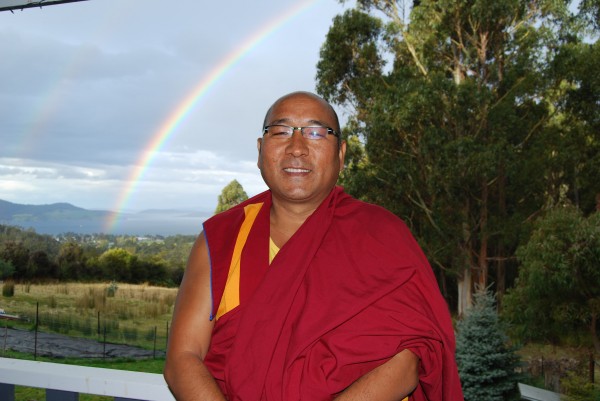 CTCT are deeply delighted to be welcoming Geshe Sherabs return to Tasmania once again
This next visit falls on Tibetan New Year - Losar - a most auspicious time for a positive time of new beginnings
JOIN US FOR THE FIRST EVENT FOR 2018 at CTCT
Bookings Essential via This email address is being protected from spambots. You need JavaScript enabled to view it.
LOSAR - Tibetan New Year coincides with Geshe Sherabs return visit this year presenting our first event for 2018
A MOST WONDERFUL OPPORTUNITY TO BEGIN our NEW YEAR Program - PLEASE DO JOIN US for a most meaningful start to 2018 - set your Dharma compass in the true direction towards all happiness, peace & contentment for you , for your family , for your community, for your world
WHEN : February 17 -19 10am - 4pm each day
WHERE : Kickstart Art Centre St Johns Park New Town Hobart [ non residential retreat ]
WHAT : AWAKENING THE WISE HEART - COMPASSION RETREAT with Geshe Thubten Sherab
Facilty Fee : $210 Full 3 days $70 - Day only - suggested donation
Suitable for all levels of interest - Everyone warmly welcomed
A word from Geshe-la - ' For beginners in the Dharma, the most important thing is to try and integrate one's study and practice. You can see some who are only into study, only intellectual ... They have knowledge like a computer, knowing everything but nothing really touches the heart.'
About this Course :
Among the most essential teachings in the Mahayana tradition of Buddhism are the instructions on developing bodhichitta, the aspiration to attain enlightenment for the sake of all beings. In this weekend retreat, Geshe Sherab will skillfully provide teachings on the technique to develop bodhichitta known as "equalizing and exchanging self and others" that utilizes the profound and powerful technique of tonglen, "taking and giving." The weekend will also include guided meditations on cultivating bodhichitta accompanied by the practice of Chenrezig (Skt. Avalokiteshvara), the manifestation of the compassion of all the Buddhas.
During our precious few days together with Geshe Sherab we will have the chance to experience :
Discourse | interactive discussions |time for questions | refelction| silence| guided meditations
We will also have a special LOSAR Celebrations together on Saturday 17th as we welcome in 2145 Tibetan New Year of the Earth Dog.[ more details closer to the date ]
A year heralded to have the charachteristics exemplifying honesty, integretary, flourishing, perserverance and down to earth stabilty and a loyalty to goodness - all things we wish for CTCT and community of friends to be blessed with.
Over the weekend there will also be time for discussions with Geshela regarding our very special upcoming visit of our FPMT Spiritual Director Lama Zopa Rinpoche May 25-27 - especially valuable for the community generally but also important for new students whom havent met with Lama Zopa Rinpoche as yet. Geshela will be able to give a wonderful glimpse of the preciousness and amazing good fortune that CTCT have for this coming event and impart great inspiration for your interest and attendance
REGISTRATION IS ESSENTIAL please so we can plan ahead for seating , refreshments and course materials
email

This email address is being protected from spambots. You need JavaScript enabled to view it.

ASAP and further course details and payment options will be confirmed for you upon registration
Please bring along a wholesome vegetarian plate to share for the lunch table
Relax and enjoy tea break times with like minded company in the beautiful outside garden space
This course is suitable for all levels of interest - everyone is warmly welcomed
Full participation is recommended to really expereince a taste of retreat and the full benefit from this rare and wonderful opportunity
Day only attendance can also be available [to suit /assist your schedules of family etc ]
FACILTY FEE - Full course attendence - suggested donation $210 - DAY only attendance $70
The Dharma teachings are offered freely - If the set suggested donation is not suitbale for your means - please know a donation suitable for you is most welcomed
Facilty fees assit the Centres costs of hosting [ airfares, accomodation, meals and offerings] our visiting teachers,plus National Tour fees, Venue hire, setup and offerings , course materials printing & refreshments
WOULD YOU LIKE TO BE A VISITING TEACHER TOUR SPONSOR ?
Creating abundance in the spirit of generosity
Please read more HERE Even if you are unable to attend an event your sponsorship ensures others may enjoy
Haven't met Geshe Thubten Sherab during his previous visits to CTCT?
Please enjoy the following introduction ......
ABOUT THE TEACHER - The Master from the New Generation - Geshe Sherab
Geshe Thubten Sherab was born in 1967 in a small village in Manang province, the western part of Nepal, to a Kagyu-Nyingma family. He entered Kopan Monastery at the age of nine and completed his Geshe studies at Sera Je monastery in South India, followed by a year at Gyumed Tantric College. He then completed retreat and teaching assignments both in the U.S. and Asia. He served as Headmaster of the Kopan school from 2005 to 2009, overseeing debate training and tantric training activities. He is now the resident teacher at Thubten Norbu Ling Center in Santa Fe and regularly travels all over the world to teach in other FPMT centres and study groups.
Geshe Sherab teaches in English, he understands and connects very well with Western students, presenting the Dharma in an accessible, warm, and open manner.