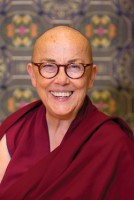 CTCT WARMLY WELCOMES THE RETURN OF VEN ROBINA COURTIN TO HOBART 2015
​
Soon Ven Robina will join us once again ( her 7th visit to CTCT) offering us an extraordinary opportunity to hear the teachings in a most vibrant, dynamic way full of great wisdom and compassion and kindness. She will keep us on our toes every moment - sometimes really pushing us to a personal limit we didnt know existed ! This visit we have the added advantage of attending the teaching in a non-residential Retreat style presentation - including discourse, discussion and guided meditation sessions.
All visit | program | registration details can be found in the

Calendar HERE

plus the opportunity to support the visit by the  generosity of Financial Sponsorship ...please see below
She will be with us for just a few short days, July 8-12 , but the program planned is packed full of wonderfully relevant, interesting and for some - surprisingly life changing - content - things that will support and benefit our everyday practice - the quest for developing the good heart - the very foundation of a meaningful life.
Ven Robina comes to us as a visiting registered FPMT teacher [on behalf of Lama Zopa Rinpoche]
Unfortunately we cannot use our beautiful new Centre venue for all events as we envision the size will be limiting and so we will be at Kickstart Art Centre again.
We sincerely hope you will become involved in this community event - support CTCT in our efforts to be of benefit and seize the opportunity to take advantage of a well qualified teacher and Sangha member who is coming here just for YOU
Centre welcome plus...
REFUGE - the path to inner freedom - teachings with Ven Robina
When : Wednesday July 8th 7pm - 8.30pm
Where: CTCT CENTRE VENUE  166 Warwick St West Hobart
By Donation - suitable for all levels of interest
Description: We will also include on this evening our welcome to CTCT from the community to Ven Robina  and we encourage everyone to attend to make the welcome warm and vigorous !! Because we are sooo fortunate to have qualified and valid teachers support CTCT Program in this way..travelling to us ..offering their time to us.
Here is a link to A Beginners Guide to "Which Vows are which"
A formal Refuge ceremony will be offered after the introductory teachings on the importance of and what it means to take Refuge - what is the purpose - for us in the context of our everyday lives and how our lifestyle,our mindset may change as a result of this commitment...towards a  happier ,most meaningful  life
HERE is an extraordinarily beautiful and concise teaching by Lama Yeshe ABOUT : what it signifies in our lives to take Refuge in the Buddha Dharma &Sangha - highly recommended reading for all
People whom already have taken Refuge are warmly invited to attend to refresh , renew their refuge vows and or add extra vows not included previously  or just enjoy the evenings teachings on a most poignant timeless topic supporting likeminded friends.
Previously in mid-2000 Ven Robina held an Urban Residential Retreat in Hobart and offered a Refuge Ceremony there with approx. 50 participants!!! and since then also another visit when 13 people also took Refuge formally with Ven Robina  .....in 2006 Lama Zopa Rinpoche offerered Refuge to approx 20 peopel...if that was you ...and you are still on our mailing list...please join us - we would love to see you again  !
If you hold Bodhisattva Vows, Tantric Vows and commitments and have queries about the practices and requirments  please bring them along to the evenings presentation to be addressed also.
Everyone is welcomed
Those that are planning to take Refuge for the first time formally with Ven Robina MUST reply email to This e-mail address is being protected from spambots. You need JavaScript enabled to view it to register for this event asap please
All those participating will receive a Refuge Booklet outlining your vows and responsibilities and also you will receive a new Refuge name.
All inquiries are welcomed via reply email or phone 62679203
A WISH TO CHANGE - a chat with Ven Robina Courtin
When: Thursday, July 9, 7:00pm – 8:30pm
Where: Kickstart Art Centre St Johns Ave NewTown
Description: A relaxed welcome and shared supper and "Chat with Ven Robina - Finding the Real Wish to Change -
The wish to make changes for the better is often very strong…but often remaining only on an intellectual level… with difficulties arising when we try to relate our spiritual practice , studies and realizations into all the activities of our everyday life, keeping the two disengaged , separate. Ven Robina will chat with us about the underlying causes for this circumstance and clarify what we can do to fully encompass our heartfelt wish to make a change in this life – clarifying our motivation, transforming the mind and developing the good heart in the service of others.
By donation - Suitable for all levels of interest   - Everyone welcomed
LIVING HAPPILY ~ DYING PEACEFULLY  MEDICINE BUDDHA RETREAT
When:  Sat July 11 -9.30 am - 4.30pm Sun July12 -10am - 3pm
Where: KickstartArt Centre St Johns Park NewTown (map)
Description: This weekend non-residential retreat will be Medicine Buddha Practice combined with teachings from Venerable Robina on how to help your loved ones enjoy death and go happily to their next rebirth.

According to Buddhism, this life we have now is just one of countless lives we have lived in a continuum going off immeasurably into the past and indefinitely into the future. What kind of life we get and what happens to us throughout our life is coming from our karma, which is coming from our mind – our thoughts and attitudes.
Learning how to develop positive and realistic attitudes helps us have more happiness right now. It also helps us go through the dying process in the most skillful way, bringing our good karma to the front of the queue so that we can have the most favorable rebirth – a fortunate human rebirth in which we will be able to continue our spiritual evolution.
" How to help your loved ones die peacefully and go happily to their next rebirth "
This new Handbook by Lama Zopa Rinpoche - compiled and edited by Ven Robina Courtin will be the reference  for this series of teachings:
HERE is free  download link to this PDF file (417 page) for your reference
Suitable for all levels of interest
REGISTRATION  OPEN NOW
Please email  This e-mail address is being protected from spambots. You need JavaScript enabled to view it to reserve your place ASAP
Please include your preferred payment option with your registration to confirm your place.
Your Course Contribution includes  SAT & SUN  Vegetarian Lunch and refreshments and assists towards all the costs of hosting the event
All ordained Sangha are welcomed free of course contribution  - please register as usual to assist our preparations
10% discount for "Friend of CTCT Annual Supporters"
Weekend Course Contribution:
$100 full attendance - or by donation suitable for you
$50 Part attendance [ one day or less ]
Payment options:
AT DOOR (cash only)
or
Direct Bank transfer:
CBA
Chagtong Chentong Inc.
BSB: 067105
ACC : 10221360
Ref. VR [and your name]
FINANCIAL SPONSORSHIP of the visit
We would welcome sincerely your generosity
[maybe you are unable to attend the teachings due to other committments  but would like to support others that may have financial hardship]
All our kind sponsors will have an opportunity to meet personally with Ven Robina for tea and ackowledgment of our appreciation.
Heartfelt thanks in advance - your goodwill will be of immeasurable benefit for you ...for the Centre ...for all those that have the opportunity to attend
Visit Costs: [$2,400]
Airfare-domestic and interantional share -$500

Teacher offering-$500

Venue Hire - $300 TBC

Catering ( lunches and refreshments ) $150

Flowers - $100

Course Materials print - $150

Marketing /Advertising - $350

Accom/food - $200 ( for host)

Misc/personal - $150
We welcome with great thanks your  contribution of any amount towards any area of the hosting costs of this visit
Please make a direct bank transfer to:
Chagtong Chentong Inc.
CBA
BSB : 067105
ACC:10221360
REF: VR Sponsor