Do you have a wish to really taste a glimpse of experiential meditation practice ?
Have you ever considered arranging your busy life to allow a full weekend all to yourself to dedicate to the pracitice of meditation ?
What is meditation ? - becoming familiar with our mind- with ourselves
Please do ...it is an irreplaceable experience once youve had it !
This is a remarkable opportunity with a qualified and most remarkable senoir meditation teacher visiting Hobart offering 2 weekend opportunities
Please consider ..................and join us !
AUGUST 28-30    SEPTEMBER 4-6
2 non-residential weekend Retreats
Mindfulness and Compassion: Meditation and the Awakening Heart
"Compassion is the most powerful purification in the world. Many people say: I'm so impure; please give me powerful purification. Nothing to give! One has to open one's mind. That's the solution.   That IS the solution"- Lama Yeshe
Wisdom that sees the true nature of reality and a compassionate heart come together in the mind of a buddha. Through meditation we clear the way to see things as they are, and wisdom grows. With wisdom we see the suffering nature of our own lives and of those of around us, and compassion grows.
Through the practice of mindfulness and reflective meditation we will deepen our attentive awareness and expand our compassionate approach to relationships with others, ourselves and life in general.
T.Y. Alexander will offer two non-residential weekend retreats –which can be attended individually or taken as a continuing practice for both weekends back to back - guided meditation with discussion and opportunities for questions
A rare and precious opportunity  - Quiet - spacious - rejuvenating – everyone is welcomed
Course Contribution (plus Dana - offerings to teacher )
$100 - full weekend Retreat participation ( Fri 7pm-9 pm  Sat 9am-8pm Sun 9am - 4pm)
$50 per single day participation ( which means attendance to all sessions in full during one days schedule either Sat or Sun )
Course contribution Includeds refreshments and Supper on Saturday evening - BYO lunch ( Sat & Sun)
BOOKINGS ARE ESSENTIAL as spaces are strictly limited to max. 20 for these Retreats
Please email This e-mail address is being protected from spambots. You need JavaScript enabled to view it  ASAP to secure your place
Upon confirmation of your booking payment options will be confirmed
***Course contributions & Dana assit  the Centre to support the costs of airfares/ travel, accomodation, visitor hosting, course advertising, print materials , course refreshments and offerings to the teacher - thank you for your considerations
CTCT are delighted to welcome TY Alexander back to Hobart whom has been generously  visiting us annually  leading residential Retreats and teaching weekends  since 2005
About the teacher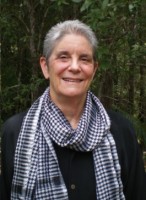 Thubten Yeshe (T.Y.), a student of Lama Thubten Yeshe and Lama Zopa Rinpoche since 1974, studied in Nepal and India until 1979, during which time she was ordained as a Buddhist nun. She remained a nun for nine years. T.Y. has received teachings over the years from many lamas, including Serkong Tsenshab Rinpoche, Geshe Ngawang Dargyey, Kyabje Song Rinpoche, Ribur Rinpoche, Kirti Tsenshab Rinpoche and His Holiness the Dalai Lama. Since those early days, she has lived and worked in FPMT centers around the world. In 1985, she moved to Australia, where she teaches, lead retreats and engages in other work within the FPMT. T.Y. also serves as an Elder for the FPMT Online Learning Center.