ONE DAY WORKSHOP with Renate Ogilvie - MAY 9th 9.30am - 4.30pm - 166 Warwick St West Hobart
ABOUT THE COURSE:
Ancient Wisdom for Resolving Inner Conflicts
Full Day Workshop with Renate Ogilvie  ~ Befriending your Demons
An introduction to the monthly group workshop to be scheduled on wednesday evenings - see calenda for dates An accessible and effective approach for dealing with depression,negative emotions, fears, illness, and self-defeating patterns.
The practice to be explored takes one through the entire process of transforming 'demons'
( often things we wish not to engage with)
into allies whereby the energy that is caught up in inner conflict becomes liberated and available to be used as a positive resource
Inspired by the work of Tsultrim Alione - Feeding Your Demons - Renate has developed a most beneficial and successfully presented one day course of discussion, discourse and personal inquiry.
ABOUT THE TEACHER:
Renate Ogilvie M.A. UKCP ANZAP AABCAP PACFA
Renate was born in Germany and educated in both East and West. She holds Masters degrees from Frankfurt University and Antioch University (Regent's College) London, and studied Western Philosophy at Birkbeck College London. She worked in London as a literary agent and commissioning editor before training as an existential psychotherapist and counsellor.
After migrating to Australia, Renate was founding director of Shakyamuni Budda Hospice Sydney, and served on the International Board of Directors of FPMT Inc. (Foundation for the Preservation of the Mahayana Tradition) www.fpmt.org. She was a director of WHF (World Happiness Forum) www.happinessanditscauses.com.au. She has been teaching Tibetan Buddhism for over 15 years at many Buddhists centres in Australia and abroad, as well as at hospices and community centres. She is an occasional speaker at the Mind and Its Potential and Happiness conferences in Sydney and has appeared on radio and TV.
Renate lives  in Hobart, teaches at Chagtong Chentong Tibetan Buddhist Centre, and works as a Buddhist and Existential psychotherapist in private practice.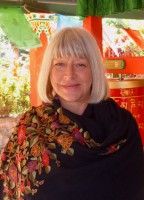 ​

EVERYONE is WELCOMED - Buddhist and Non Buddhist alike - new or seasoned students and general interest
Participants of this workshop will then form the ongoing monthly practice group presented on Wednesday evenings
BOOKINGS ARE ESSENTIAL - Places are limited
WHERE: 166 Warwick St West Hobart
WHEN: SATURDAY MAY 9th 9.30 am - 4.30pm
Refreshments provided -
BYO
(prepared)
lunch
(microwave available)
Full Day Course contribution : $35 '
Friend of CTCT 'discount
$25
(Payment at the door - no credit card facility)
plus

'Dana'
( offerings to teacher/facilitator )
A very brief explanation of the Pali word
'Dana'
Dana (generosity) Practice
In the Buddhist tradition, the teachings are given freely because they are considered priceless; in the Buddhist tradition we also practice dana, or generosity, by making monetary offerings for the teachings. Dana is not payment for goods or services rendered; it is given from the heart. Your generosity is a gift that supports not just the teachers, but also the Sangha, the larger Dharma community, and your own practice and creates the causes and conditions for you to have the fortune to be in touch with the Dharma and like minded friends ongoing
(Offering container and envelopes wil be available at the Centre during the Course)