CTCT is very happy to welcome Ven Robina Courtins' return visit to Hobart July 28 - August 4             http://www.robinacourtin.com/
.......Ven Robina is tireless and true... your heart is sure to be moved ..........
Offering The ART OF HAPPINESS ~ 2 evening talks and a non residential weekend retreat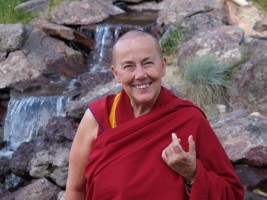 About the teacher ~ Ven Robina Courtin Biography in full HERE
Ven Robina became a student of Lama Yeshe and was ordained as a Tibetan Buddhist nun at Kopan Monastery in 1978. She has worked full-time for the Foundation for the Preservation of the Mahayana Tradition (FPMT) in several roles; editorial director of Wisdom Publications, editor of the magazine, Mandala and director of the Liberation Prison Project. Since 1987 Ven. Robina has taught Buddhist courses and retreats at FPMT centres worldwide. Well-known for her intense energy and no-nonsense manner of expressing her profound understanding of Buddhist philosophy, Ven Robina is the subject of an award-winning documentary,"Chasing Buddha and a film by Christien Lumberg called "On the Road Home".
Ven Robina travels endlessly around the globe teaching at many FPMT Centres and other Organisations...tireless in her wish to benefit
***************************
VENUE FOR THE FULL PROGRAM : All events to be hosted at KICKSTARTARTS Centre Building 1831 South. St Johns Ave St Johns Park New Town
When: Wednesday July 30 7.30pm - 9pm  ~ LIVING A LIFE TRUE TO YOURSELF
One of the most common misconceptions is that it's selfish not to fulfill other people's expectations. We can spend our lives acting like nice, kind individuals, helping others, and being good mothers, partners and friends, but this behavior, which is good in itself, is often propelled by the fear of upsetting others, and our need to be seen as  a nice person.Buddhist psychology refers to this as' attachment to reputation'.It's probably more powerful than our need for security, food, power, money, sex and the rest. It's so pervasive, we rarely notice it. Yet it underlies most of our actions. It's almost as if we have no other way to define ourselves except in terms of how we're seen by others
When : Thursday July 31 7.30pm-9pm ~ BOUNCING BACK
A common-sense way about dealing with hardships by changing one's mind through mind training.
When we are not able to change the outer situation in life for the better, through taking wise and compassionate action we can change our own minds to overcome the difficulties of life.
Ven Robina teaches us about 'liking problems like you like ice-cream' as Lama Zopa Rinpoche says,  transforming problems into happiness. When problems are unavoidable, this is the moment to practice mind training
When: Sat & Sun August 2-3 10am - 4pm ~ CULTIVATING COURAGEOUS COMPASSION
It's easy to become overwhelmed by the suffering of the world, to despair that there is little we can do to help. But it's possible to develop the huge compassion of the bodhisattva: the enthusiasm and confidence to never give up working to help others.
The key is to develop wisdom: to understand our own suffering and how to overcome it. As His Holiness the Dalai Lama says, "Compassion on its own is not enough: we need wisdom." This gives strength and power to our compassion, our empathy, and we can expand it to include all suffering beings, not just those we're close to. Venerable Robina will explain the means of cultivating such courageous compassion and inspire you to take this path of the bodhisattva.
Course contribution ~ BY DONATION ~ for all events
We trust your generosity will reflect the  benefit of your personal experience of attending this series of teachings with Ven Robina at CTCT and your kindness will directly contribute to assisting the Centre to facilitate these teachings with out a set charge for all - so many can also benefit
Refreshments will be provided for all events. BYO LUNCH for Weekend Retreat ( Limited kitchen facilities prevent us offering a shared lunch table) Inside and outside areas for relaxation will be available for all break times.
REGISTRATIONS ARE ESSENTIAL TO ATTEND THE WEEKEND RETREAT AUG 2-3 ~ Cultivating Courageous Compassion
Your place at  this Retreat  cannot be confirmed unless a registration email is received by This e-mail address is being protected from spambots. You need JavaScript enabled to view it
Please note your name, contact and your preference for full or partial attendance ( 2 full days or 1 full day ) in your booking email to This e-mail address is being protected from spambots. You need JavaScript enabled to view it and fwd ASAP to secure your place.Please note in your email if you require any special assistance or seating (chairs and floor cushions provided- BYO kneeling stool if you prefer to use )
All Public Events require arrangements by the host to ensure appropriate preparations are in place for all participants

This Dharma teaching program is  no different.

This weekend course also requires course materials to be prepared|printed for each participant.
Your consideration and swift REGISTRATION for this event  is greatly appreciated and will prevent us potentially wasting our limited resources and enable us to provide adequately for everyone - thank you very much in advance.
ALL  DONATIONS - for all events are welcomed on the day or you can also choose to direct deposit your donation prior to attendance via the following details:
CBA Chagtong Chentong Inc.
BSB 06 7105 Acc# 10221360
Description : RC Event [ plus your initials ]
~~~~~~~~~~~~~~~~~~~~~~~~~~~~~~~~~~~~~~~~~~~~~~~~~~~~~~~~~~~~~~~~~~~~~~~~~~~~~~~~~~~~~~~~~~~~~~
OPPORTUNITY TO SPONSOR 2014 TEACHINGS BY VEN ROBINA COURTIN AT CTCT ~ with a wish to benefit others ~
Financial Sponsorship of this visit is sincerely appreciated .Your generosity will bring much benefit and assist CTCT to enable  many to attend the teachings
All sponsors will receive an invitation to a personal meeting with Ven Robina to offer our heartfelt thanks
You are invited to sponsor any area you wish in full or part - thank you (via  Direct Deposit [using the bank detail above] Description: RC Sponsorship)
Sponsorship opportunities as follows:
International and domestic airfare and travel

$700  

(fully sponsored)

Accommodation

(f

ully

sponsored )

Venue hire &

Refreshments

$400      (

fully

sponsored

)

Advertising /marketing

$250

( $150  part sponsored ) $100
Set up/ Gompa/Alter & Flowers $250

( fully sponsored )

Offerings

$500

( fully sponsored)

Printing

$200-$250      ( $100

part sponsored

) $150

Food, personal misc

(fully sponsored)
Please email This e-mail address is being protected from spambots. You need JavaScript enabled to view it to advise of your deposit if you wish to nominate a specific area of sponsorship ~ thank you very much
DEDICATION OF YOUR SPONSORSHIP of Ven Robinas' 2014 Visit
Please let us know if you'd like to dedicate your generosity of offering financial sponsorship for this visit on behalf of a loved one in need of support in challenging times, one whom may have passed away, for health and well being , for success, for a beloved pet or a specific cause you support...we will add your name to our dedication list  at every PUJA performed at CTCT until Ven Robinas next visit [hopefully] in 2015 .
Please email This e-mail address is being protected from spambots. You need JavaScript enabled to view it to confirm your request or contact Lindy during any scheduled event during Ven Robinas visit or Ph 0410569909
~~~~~~~~~~~~~~~~~~~~~~~~~~~~~~~~~~~~~~~~~~~~~~~~~~~~~~~~~~~~~~~~~~~~~~~~~~~~~~~~~~~~~~~~~~~~~~~~~~~~~