Holy Objects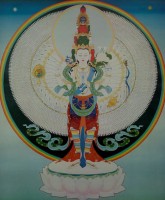 Tanghka painting by Peter Iseli
1000 Armed Chenrezig The Buddha of Compassion
Chagtong Chentong have  plans in progress for 4 Holy Object projects to date.
2.8mt Stupa (type yet to be confirmed)
2.8mt 1000 Arm Chenrezig Statue (Buddha of Compassion)
2.8 mt Buddha Statue (height includes lotus throne base ) ( see Our Golden Buddha news below)
1.5 mt Prayer Wheels x 3
Lama Zopa Rinpoche advised that CTCT build a 9ft Stupa and also a Thousand arm Chenrezig Statue, of the same size ,to create the merit for conditions for CTCT to establish and flourish,specifically related to all the people that will be involved in bringing the holy objects to fruition,creating the merit to benefit the Centres development.Rinpoche also advised that these Holy Objects should be completed before the main gompa or accomodation buildings on site would be completed
We also have 3 prayer wheels 1.5 mt each under construction currently.The Stupa project is yet to begin - in waiting for a beautiful site on long wished for  Retreat land ...and clarification of the type of Stupa ..hopefully soon to come !
CTCT is happy to say that  our sister Centre in Singapore 
http://www.
fpmtabc
.org
has very generously offered to assist us towards actualizing the 1000 arm Chenrezig Statue as Amitaba Buddha Centre has advice from Lama Zopa Rinpoche to build the same statue ( only larger -12 ft ) we are benefiting from their great expertise and resources and will be able to be included when statue finally goes to foundary to be cast......a slow progress...but a BIG project...more news when it becomes available.
And in the meantime we had the wonderful opportunity to acquire this ( see images below of its arrival to Snug Tasmania early 2011) beautiful proto type of the Jade Buddha
http://www.jadebuddha.org.au/en/
- we call it our Golden Buddha -  we hope when filled completed and in place it will be golden and glowing - moving hearts and minds.We have not decided if it will be in an outside garden or a welcoming entrance to the centre property or whether we will build the alter to house this Buddha indoors.
Our sister Centres, both the Great Stupa & Atisha Centre in Bendigo 
http://www.stupa.org.au/
& 
http://www.atishacentre.org.au/
supported CTCT greatly in acquiring and transporting our Statue to Tasmania from its place of construction in Thailand and we are forever grateful of their kindness and generosity.
CTCT have benfited greatly from a successfull application from The Merit Box Project assisting financially towards  our Holy Project plans
Planning ongoing fundrasing to bring all these projects to completion is ever in progress...and ever needing creative ideas, vast vision and longterm committment.
CTCT would love to hear from you  if you wish to offer any assistance of any kind in any way great or small email This e-mail address is being protected from spambots. You need JavaScript enabled to view it
The contents to fill the Golden Buddha are being organized currently and we are ordering the mantras to be rolled at Khachoe Ghakyil Nunnery on Kopan Hill in Nepal...we are also sourcing all the other many ingredients it takes to fill the insides of the Statue - things like sandle wood powder, rose petals and many other precious things....more information on ways that you can be involved and assist this project coming soon....or PLEASE DO CONTACT US if you have useful information or ideas or any kind of generosity  to share with us ...any time.
Read more...